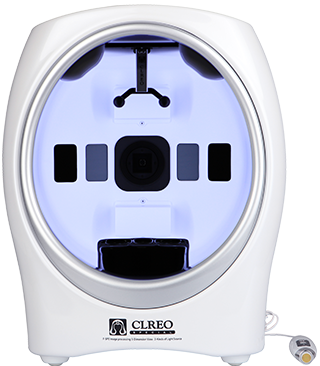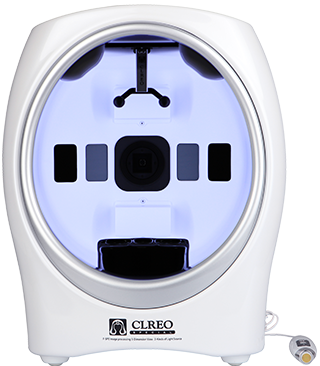 Steady Seller

Find out about CLREO,
which is consistently loved as a low-end.
Download Catalog

Download Proposal

Features
product features
Product recommendation and curation service through accurate skin analysis
It analyzes 9 different skin problems and provides customized product curation services. (product registration is available)
It Helps everyone has professional counseling skills based on specific data results.
It provides a management approach based on issues that need to be managed, so that you to consult with customers at their own level.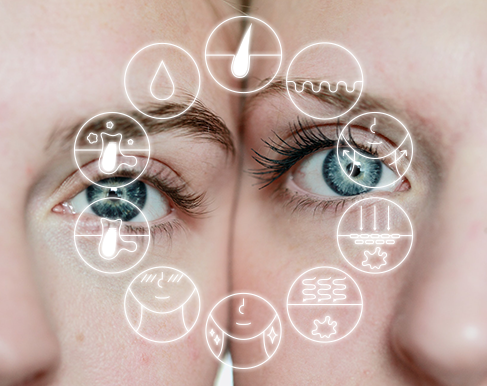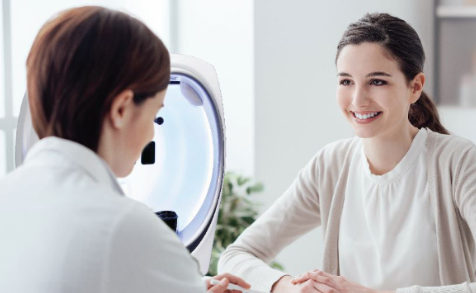 product features
It ensures the convenience of customer consultation
It is a simple system to complete all shooting and analysis in less than 30 seconds.
It supports for multiple languages (7) is available for consultation with customers from different nationalities.
It uses face recognition technology to automatically set up the analysis areas. (except for a special case, you do not need to adjust the areas)
product features
The best cost-effectiveness for beginners
It offers a high resolution image of 13 million pixels.
It uses 3 superb spectral flash light sources to provide optimized images for analysis.
It uses a brightness retainer using professional shooting techniques.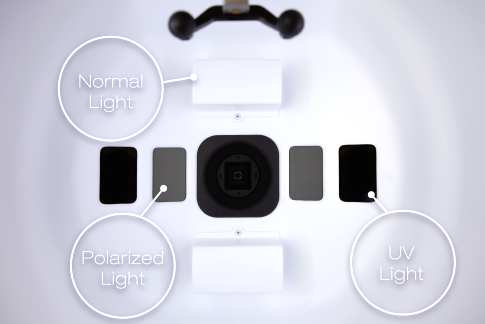 Functions
product technology
Area-based skin learning system
8 areas have been developed with ergonomic design.
ISM techniques recognize and measure minute shadows of skin tissue by indirect light source.
Using high-resolution image analysis technology, it is quantitatively analyzed in pixels.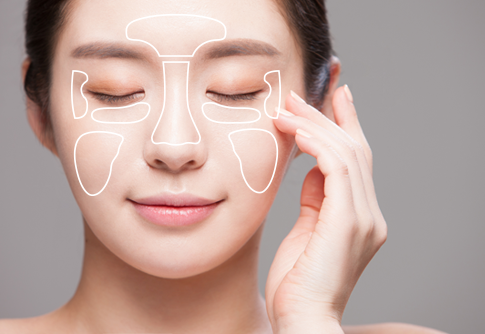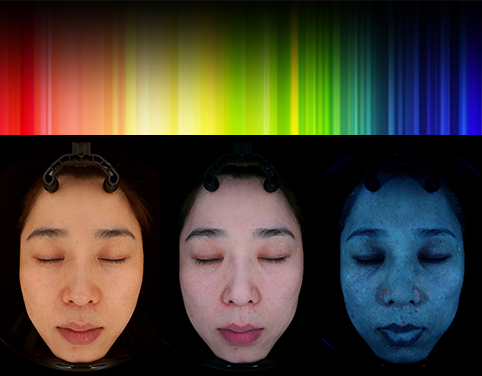 product technology
Superb three flash light sources
The flash light source contains all the wavelengths that pass through the visible spectrum, allowing it to express a color close to natural light.
Normal light - indirect irradiation takes a skin image that prevents excessive exposure.
Polarized light - A polarizing filter that removes the reflection of light on the surface of the skin to capture images that excepting texture. UV light -A polarizing filter that removes the reflection of light on the surface of the skin capture images that exclude textures.
product technology
Photographic Brightness Maintenance equipment
Using Gray card* modality, it controls the same brightness every time.
When Shooting, measure the amount of light to detect the condition of the light source or changes in the shooting environment.
(*It used to adjust exact exposure and white balance when a professional takes photos)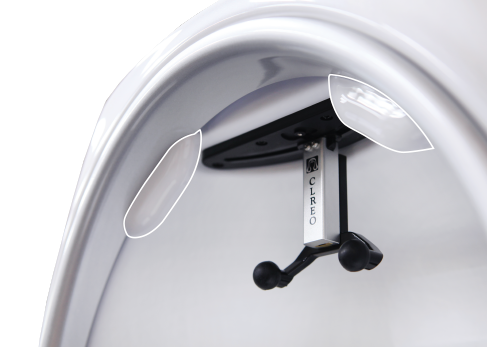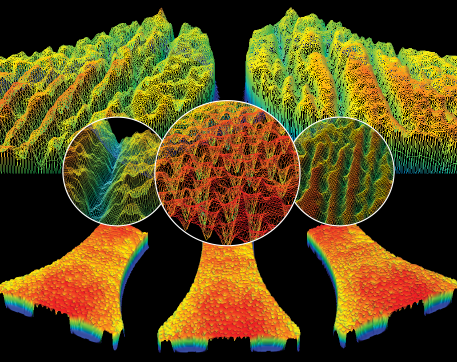 product technology
Skin Surface 3D Processing Algorithm
The images taken in 2D are processed with their own calculation algorithm and implemented in 3D.
It uses blurring technology to effectively view deep-rooted analysis items, such as pores or creases.
application
product utilities
It's a favorable for customized sales
Data-based professional consultations allow you to recommend and sell customized products.
You can effectively demonstrate the customer's skin problems and encourage them to purchase the products they need.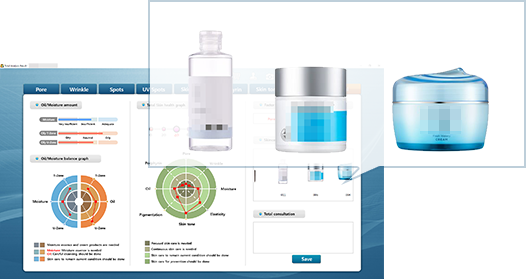 product utilities
It is easy to install and use even in a small space
Practical instrument design allows it to be installed in a small space and can be used as soon as two connections (USB cable, power cord) are complete.
LED lighting and a sleek exterior design when power is on provide a premium view of the shop's atmosphere.
product utilities
It attracts customers with compelling analytics and easy-to-use consultations
There is no more compelling way for consultation than the measured data of the customer's own face.
CLREO's fast analytics speed saves customers time and helps them focus more on their skin.
It allows for easy customer registration and efficient consultation by managing customer data by shooting date.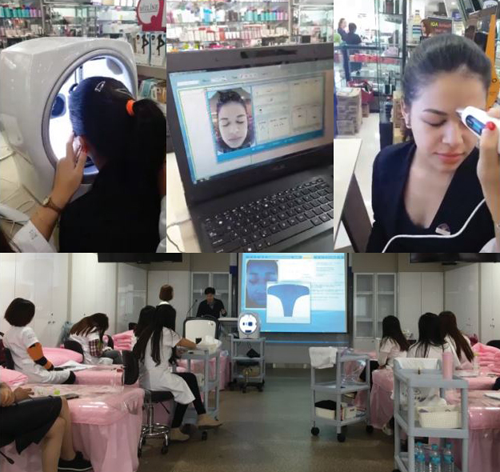 Specification
Camera

USB Camera

Pixels

13 Mega Pixel

Light

Normal Light, Polarized Light, UV Light

Dimension

37(W) x 28(D) x 47(H), 6.6kg

Analysis Sections

9 Sections (Pore / Wrinkle / Elasticity / Spot(Polarized/UV) / Skin tone / Sebum + Porphyrin / Moisture)

Resolution

1920 x 1080 (16:9) / 1366 x 768 (16:9)

Languages

Korean, English, Chinese, Japanese, Taiwanese, Vietnamese, German (Total of 7)
Program
Customer Registration

Input the customer's information.


Shooting

It shoots the customer's face images 3 times and measures moisture after shooting.

(must be connected to a water meter.)


Zone Setting

It sets the position of the 8 zones.


Total Result

It provides a comprehensive view of the customer's skin analysis.


Pore

It analyzes pores in detail.


3d images

You can view the depth of pores in 3D images.


Wrinkle

It analyzes the wrinkles in detail.


Spot

It analyzes the image of spot taken by polarized light.


Skin type

This shows the skin type based on the results of the sebum analysis.


Sebum

It analyzes the ratio of the porphyrin by comparing to the number of sebum.


Skin tone

It analyzes the bright and dark areas of the skin by comparing them.


Moisture & Elasticity

It analyzes moisture and elasticity figures.


Comparative Analysis

You can analyze before and after the procedure.


Recommended Cosmetics Products

It recommends products based on skin type and problem. You can register and sell the product you want.

Customer Registration

Shooting

Zone Setting

Total Result

Pore

3d images

Wrinkle

Spot

Skin type

Sebum

Skin tone

Moisture & Elasticity

Comparative Analysis

Recommended Cosmetics Products